"Now Hear This"
---

September 14, 2016
New Officers Elected
At the Association's business meeting, held on Sept. 14, 2016, elections were held to replace two of our current officers. The offices to be filled were the Vice President and Treasurer. The outgoing officers were Rodger Smith and John Hearn. Rodger has done a great job for us by putting together and running the past five reunions. John not only did his duties as Treasurer but also did the difficult job of having the IRS declare the Association a tax free non-profit . And, in his spare time, he did the colossal job of acquiring the Ponchatoula artifacts, selling the City on building a memorial and supervising the entire project!
Elected to Vice President is Philip Jones. Philip is a long standing member who is always looking for ways to help at every event he attends. Our new Treasurer is Peter Ablanczy. Pete has been the Association's Advocate for the past few years and worked in the banking industry in Denver for more than 43 years. We wish you both the best and thank you for taking on these very necessary jobs.
To Rodger and John, a big enough thank you cannot be extended. Their accomplishments have done much to make our Association the great organization that it is.
Thank you Rodger! Thank you John!
---
Feb. 12, 2016
To all hands:
For those of you who know Mrs, Julia Hawkins, or her story, please be aware she celebrates her 100th birthday this Sunday, February 14, which of course is Valentine's Day.
The Shipmates Association has sent her a Happy 100th Birthday gift of chocolate-covered strawberrys.

If any of you would like to send her a card (even if it arrives next week), I'm sure she would be most appreciative.
At age 99, she was sitting in the front row at our Memorial dedication in Ponchatoula last May, and was presented one of our Ponchatoula steel deck plaques.

Her address is:

Julia Wells Hawkins
1314 Chretien Point Road
Sunset, LA 70854

I've excerpted part of Mrs. Hawkins' amazing story below.

Best regards,
Jay
As the U.S. entered World War II, national leaders realized that a tremendous amount of scrap iron was needed to manufacture war vehicles, ships, planes and guns. Ponchatoula residents, under the leadership of local teacher Julia Welles Hawkins, began a scrap drive in 1942. Hawkins, now 99, mobilized Ponchatoula youth and a huge scrap metal drive was launched.
The students collected 475 tons of scrap metal, or 633 pounds for each of the 1,500 students in the Ponchatoula school system. In 1944, an additional 95 tons of scrap metal was collected, and it is said that 50 U.S. Army trucks were needed to move the metal to the railroad for transportation to factories elsewhere. Hawkins carried much of the scrap metal in the rumble seat of her Ford, a vehicle still in the family's possession.
To show its gratitude to the residents of Ponchatoula, the Navy named a tanker built in 1944 after the city. That original USS Ponchatoula served until the end of World War II and was then scrapped.
---
Jeannette Rehlander, the beloved wife of our Association's President, Philip Rehlander, has passed away.
A kinder person you will never know. Our prayers and best wishes go out to the Rehlander family.
Obituary for Jeannette Ruth Rehlander
Jeannette Ruth Rehlander, age 62 of Rockwall, TX, passed away December 12, 2015. She was born December 17, 1952, in Aurora, IL, to Marion J. and Dora F. (Cox) Karwoski. Mrs. Rehlander worked for an optometrist and was a member of Redeemer Bible Church in Dallas, TX.

She is survived by her husband: Philip Lee Rehlander; children: Nathaniel Paul Rehlander and wife Erin, Brian Joseph Rehlander, and Sarah Beth Campbell and husband Andrew; grandchildren: Sommer, Vanessa and Landon Campbell; parents: Marion Joseph and Dora Frances Karwoski; sister: Linda Green; brother: George Philip Karwoski and wife Sandy; and sister in law: Jan Karwoski. She was preceded in death by her brother: Dennis Floyd Karwoski.

Graveside services will be held 10:00am, Friday, December 18, 2015, in the DFW National Cemetery, 2000 Mountain Creek Parkway, Dallas with Rev. Don Geiger officiating. Memorial services will follow at 2:00pm at Redeemer Bible Church, 721 Easton Road in Dallas with Dr. Jobe Martin officiating. The family will receive friends Thursday evening at the funeral home from 6:00 to 8:00pm. Rest Haven - Rockwall Chapel, 2500 State Highway 66 East, Rockwall, TX 75087
Rest Haven - Rockwall Chapel
2500 State Highway 66 East
Rockwall, TX 75087


As an alternative to flowers, memorial contributions to honor Jeannette's life may be made to Multiply Myeloma Research Center, 383 Main Avenue, 5th Floor, Norwalk, CT 06851 or online at http://www.themmrf.org/donate-to-mmrf/.
---
VICE ADMIRAL HOWARD E. GREER, USN (RET) MAY 1, 1921 – NOVEMBER 22, 2015
Howard Earl Greer, Vice Admiral, USN (RET) died November 22, 2015 in Coral Gables, Florida. He was born May 1, 1921 in Tyler, Texas and attended public school there until entering Tyler Junior College. He received a congressional appointment to the U.S. Naval Academy and was commissioned an Ensign upon graduation with the class of 1944. VADM Greer served on active duty from June 1943 to April 1978 and accrued a total of 5,292 flight hours and 418 carrier landings. After operational training in Florida, Greer served on the USS Princeton (CVL-23). He received flight training at NAS Ottumwa, NAS Corpus Christi, and NAS Miami, earning his carrier qualification in 1946. He attended the Naval War College from August 1953 to May 1954. Aviation Commands include Commanding Officer VF-64 (F3H) 1957—1958; Commander CVA-10 (aboard USS Shangri La) 1961—1962; Commanding Officer USS Hancock (CVA-19) 1968—1969; Chief of Naval Air Reserve Training 1969—1971; Commander, Carrier Division THREE 1972—1974; and Commander, Naval Air Forces Atlantic Fleet 1975—1978. Combat Tours include WWII: USS Princeton (CVL-23); Ship's officer in Gilbert Islands, Tarawa, Roi, Namur, Eniwetok, Palau, Guam, Saipan, Battle of Philippines Sea and Rabaul campaigns; Vietnam: four tours with Seventh Fleet 1964—1972; and Yankee Station commander (CTG-77.0) in 1972. Significant career events were as speech writer for Admiral Arthur W. Radford when testifying before Congress during the "Revolt of the Admirals" in 1949; introducing the Sparrow III missile to the Fleet with F3H-2 in 1957; Assistant Chief of Staff for Operations and Plans for Seventh Fleet for the first two years (1964 – 1966) of the Vietnam War; and Tactical Commander for all air operations by naval forces in Linebacker I campaign, including the mining of Haiphong Harbor in May 1972 as Yankee station commander. VADM Greer's awards include the Distinguished Service Medal (2), Legion of Merit (4), Navy Commendation Metal, Pacific Theater WW II Ribbon with 9 Battle Stars, and Vietnamese Distinguished Service Award. He retired from active duty as Commander, Naval Air Forces Atlantic Fleet in April 1978. Upon retirement from the Navy, VADM Greer moved to La Jolla, Calif. where he worked as a consultant for General Dynamics from 1978 to 1996. He was a proud member of the U.S. Naval Academy Alumni Association and the Tailhook Association, and he was deeply honored to be a Golden Eagle and serve as its member Chair for several years. The third of four children of a grocery salesman, Greer's lifelong love of gardening came from his mother's passion for breeding hybrid rose variations, a local hobby common in his native Tyler, rose capital of the world. Howard loved the outdoors and horse riding and for many years was a member of Los Rancheros Visitadores, based in Santa Ynez, California, the world's largest and oldest men's Western riding organization, whose membership included former President Ronald Reagan. Greer was an accomplished card and domino player, a hunter, a tennis buff, and a dancer. He also was an avid golfer, and a devoted fan of football, which he starred in at Tyler High School. Especially in his later years, he enjoyed traveling and exploring new cultures, and loved good conversation and time spent with family and friends. VADM Greer married to the former Margaret Goolsby of Macon, Georgia in 1944; the former Suzanne Johnson of Washington, D.C.in 1965, and the former Dale Price of Washington, D.C., in 1986. He will be greatlymissed by his six children and their spouses: Margaret Simmons (Chris), Darby Monger (Jack), David Greer (Andrew), Briand Greer (Jeanne), Holly Thompson (Michael), and Howard Greer, Jr. (Stacey); as well as his ten grandchildren, Hayley Connors (Sean), Halsey and Alden Monger, Ashley, Jaime Katherine, Craig and Hunter Thompson, Grant and Anna Greer, and Park Simmons; as well as great-grandchildren Michaela and Sean Connors, Jr.; and his numerous nieces, nephews, and family members in the Tyler area. Services will be held at the U.S. Naval Academy Chapel at 10 a.m. December 22, 2015 with graveside burial immediately following. In lieu of flowers, VADM Greer's family suggests donations be made in his name to Wounded Warriors.
---
December 2014
To all hands:


The city of of Ponchatoula, LA has agreed to accept the large artifacts we've acquired these past weeks off the scrapped Ponch to create an outdoor memorial to our ship in the city. The dedication will take place in Ponchatoula on Saturday, May 16 at 10:00 am. The Shipmates Association will make a weekend of the celebration with social events on that Friday and Saturday, May 15-16. We plan to make this a first-class presentation to the city. Association Vice President Rodger Smith will be coordinating hotel rooms and the event calendar, so please hold those dates. The Association plans to purchase two metal benches ($650 each) for the Ponchatoula Memorial. Several shipmates have expressed an interest in contributing funds to the Memorial.

For those who's like to help defray some of the costs of acquiring the artifacts as well as the benches for the Memorial, the Association will be accepting donations. As this dedication ceremony has just come together, I wanted to share the good news as quickly as possible.

More details will follow in the weeks and months ahead regarding the Memorial and the weekend.
Best regards, Jay
To all hands:

Rodger Smith reports that he has secured the Microtel Inn, located at 727 West Pine Street, Ponchatoula, LA, 70454, for the Ponchatoula Memorial dedication weekend of May 15-16, 2015.

The Inn has blocked 25 rooms for us for both Friday (5/15) and Saturday (5/16) night. The cost for a one-queen room will be $69 + tax. The cost for a two-queen room will be $79 + tax. They will honor these prices for a few days prior and a few days after the above dates for anyone wanting to spend more time in Ponchatoula.

Just make sure you tell them you are with the USS Ponchatoula Shipmates Association. The hotel phone number is 985-386-8866.

The dedication of the Memorial, which will consist of artifacts removed from the Ponch before she was scrapped, will be held Saturday morning, May 16th at 10:00am.

Best regards, Jay
---
June 2013
A group of our eastern shipmates got together
on their own for a gathering at Gettysburg, PA.
---
April 2013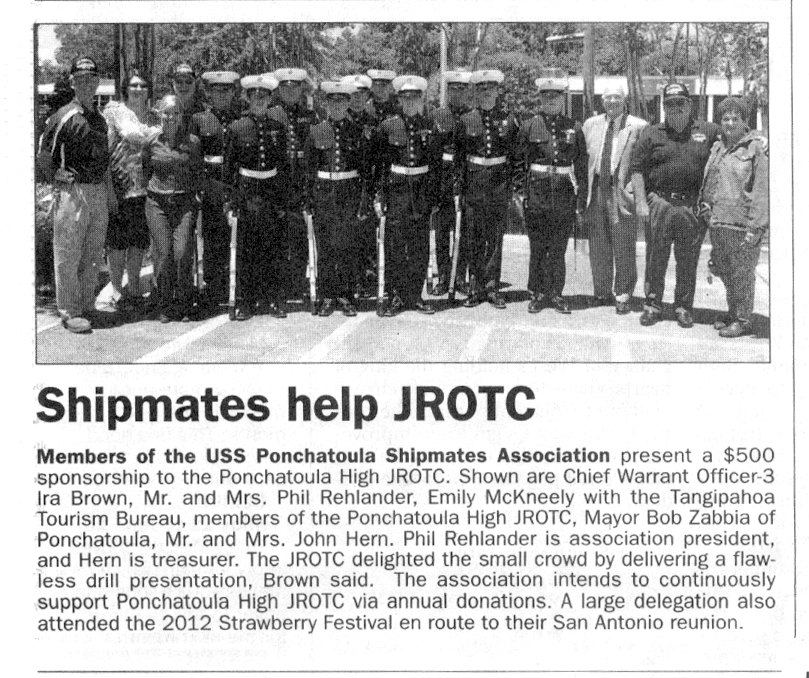 ---
April 20, 2012
President PF Hammond steps aside
PF Hammond, who has served as our president for the past 4 years has made the decision to step down.
PF and his wife Bobbi worked tirelessly for our association since 1998 when he became the Secretary/Treasure.
Stepping into PF's big shoes is Phil Rehlander. Phil was elected President last night. We are lucky to have Phil at the helm for the next few years and wish he and his wife Jeannette the very best.
Also last night, we elected a new Treasurer. John Hearn will take over Phil's old job and joins Rodger Smith, Vise President, and Barry Litchfield, Secretary, on the executive committee.
---
July 2011
2012 Reunion, San Antonio, Texas
The hotel is now accepting reservations. The Holiday Inn is located at 318 West Durango Boulevard, San Antonio, TX78204 1-800-972-3480. Use group code "USP" to get the Ponchatoula rate. You can get the group rate for 2 days before and after the reunion if you wish to extend your stay.
---
'toula cooks too
November 2010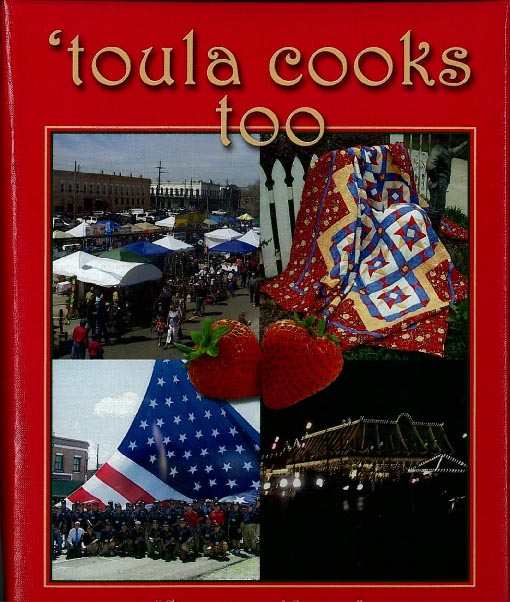 Hardback, 242 pages. Featuring generation of recipes that frequented the tables of our happy little town of Ponchatoula, this collection will be a keepsake for any cook. In Volume Two (or Too), you'll find recipes that are easy enough for the novice and those that are an excellent reference for the accomplished cook, complete with a handy index. Sales of this book support our local Chamber of Commerce's marketing efforts; buy two and share a little of the heart of Ponchatoula with a friend!
---
The passing of one of our Captains.
September 2010
This information came to us from Shipmate Tom Botwinski, thank you Tom.
"Thought I'd pass along this obituary to some of you that served and didn't serve under Captain Fischer. He was a heck of a Skipper".
http://www.legacy.com/obituaries/signonsandiego/obituary.aspx?n=arthur-f-fischer&pid=141670337
---
New Life For the USS Ponchatoula???
May 2010
Our Association had an unusual guest speaker at our banquet at this years reunion in Ponchatoula, LA. An organization that calls themselves "California Ships to Reefs". They presented a slideshow on the benefits of saving old retired ships from going to the "scrap man", and instead, sinking them so they can become a reef.
The reef serves as a refuse for marine life and a destination for recreational divers who love to dive on ship wrecks. The Ponchatoula is one of the ships being considered for use as a reef. If selected, she would do useful service for another 100 years.
To have the Ponchatoula selected will require a lot of effort and time. Now that the ship's bell is secure in its new home at Ponchatoula, LA we think this will be our next big project. The association's officers will be calling on our members for help in our effort to make this happen.
Read more about California Ships to Reefs at: www.cs2r.org
---
Fedex Bell Story
February 2010
Click on this link to see the Fedex newsletter regarding our ship's bell
---
Plaque dedication in Washington D.C.
December 2009
Comments from the Secretary
We had several members of the shipmates association that were in attendance at the plaque dedication at the U.S. Navy Memorial in Washington, D.C. December 3rd, 2009. Adam Snyder and Phillip Jones both attended the dedication in their dress blues. Adam wore his uniform from WWII (including his flat hat) to represent the AOG-38 era, and Phillip Jones wore his dress blues representing the AO-148 era. Both of them should receive some type of commendation for staying fit and trim enough to get back into those uniforms after all of these years. It was a very nice dedication ceremony and included a great wine and cheese reception after the ceremony. Thanks to those that planned and participated in the dedication, those that attended the dedication and the reception.
You may view a YouTube slide show of the plaque dedication by going to this website link:
For Immediate Release: 11/9/09
Contact: Emily McKneely
985-542-75204
Two members of the USS Ponchatoula Shipmates Association arrived in the quaint town of Ponchatoula with a special gift on Monday, November 09; the bell from the USS Ponchatoula (AO-148) commissioned in 1956. FedEx, veterans' affairs supporter and sponsor for the transportation, delivered the relic to Ponchatoula City Hall at approximately 9:30am. Greeted by Barry Litchfield and John Hearn (Shipmates of the USS Ponchatoula) Ponchatoula Mayor Bob Zabbia, Ronnie Perrin, Chris Winburn, and Judy Cordoba – City of Ponchatoula, and Emily McKneely – Tangipahoa Tourism; Shawn Harrison and Rob Phillips, representing FedEx, delivered the prized bell and shared their enthusiasm for supporting the endeavor. P.F. Hammond, Rodger Smith, and Phil Rehlander, were instrumental in securing the prized 53 year old artifact and in coordinating its delivery. The USS Ponchatoula bell will be official unveiled during the association's 2010 reunion the week of May 2-6.
Further information regarding the USS Ponchatoula Shipmates Association and reunion details may be found at: www.ussponchatoula.com.
A plaque honoring the USS Ponchatoula AOG-38, AO-148 and TAO-148 will be dedicated at 3:30 pm December 3, 2009. The image on our home page is a color reproduction of the plaque that will be on display at the Navy Memorial in Washington DC. The dedication is open to anyone who wishes to attend. It will be held at:
U.S. NAVY MEMORIAL
701 PENNSYLVANIA AVENUE, N.W.
WASHINGTON, D.C. 20004-2608